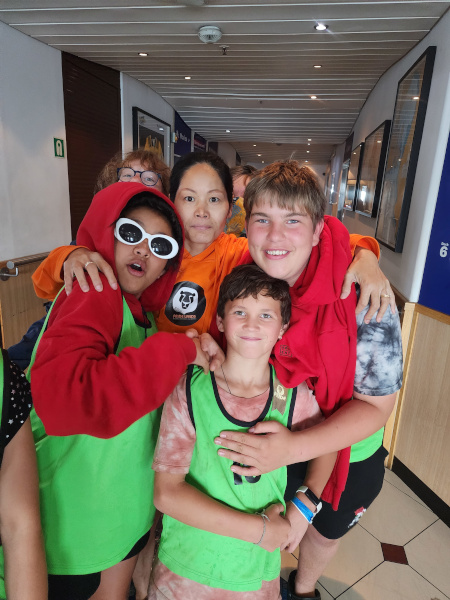 Pride Lands is a creative environment.
TV, phones and other electronic devices are not permitted at Pride Lands.
Despite this, or perhaps because of it, I have constantly been impressed with the ingenuity shown.
Kids and, staff together, invent and develop games from whatever resources are available at the time.
This can be pillows, tables, chairs, a trampoline, padded mats, or even pieces of wood.
This is not only for playing games, in this way their imagination is being stimulated as well.
On "trip days" the kids are exposed to a variety of different situations.
They can meet doctors, go to a hair salon , listen to St John's ambulance staff, or chat with beer brewers to educate and inspire.
At the "Pride Fair" the children have the opportunity to build a stall, and then sell second-hand goods for "Pride Lands dollars".
This teaches them valuable skills in buying, selling, and bargaining.
And of course it's a lot of fun!
I always enjoyed making desserts with the kids.
They are given hands-on instruction and are then free to cook it, under supervision, themselves.
Afterwards they can enjoy sampling the fruits of their labour!
I've been working at Pride Lands since Nov 2018, in my role  I was responsible for after school pick-ups and drop-offs.
Pride Lands' protocols require that children are never left alone in a vehicle.
Naturally keeping the kids safe is of up-most importance to us all.
Whenever I felt tired after a long day, a kid would often hug me and say "have a good evening Hong".
This would give me comfort and a real lift.
I really enjoyed working with the kids at Pride Lands every day.
Hong